Our main focus is on God and His will and helping those in need in special circumstances.
We provide help to people who believe that they are being tormented by demons, ghosts, or supernatural phenomenon, according to the example set by our Lord Jesus Christ.
Matthew 8:16-When evening came, many who were demon-possessed were brought to him, and he drove out the spirits with a word and healed all the sick.
Mark 16:17-And these signs will accompany those who believe: In my name they will drive out demons;
We also minister in the areas of Evangelism, Family Counseling, Marriage Counseling, Dream Interpretation, Healing and Prophetic Ministry.
Reverend Mark Blachley
19 Years in God's Service
RevMarkBlachley@gmail.com
Finally, a new view in the area of paranormal research and demonology. Find out what the Bible has to say concerning haunted houses, demons and ghosts. What are the dangers in seeking help from others who may not hold a Biblical view concerning hauntings? What does the bible have to say concerning death and the subject of terrestrial spirits? How do we defend ourselves against things we cannot see? These questions and more will be answered in this unique approach to paranormal investigation.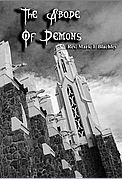 purchase here:
Donate through PayPal...Please send donations to:DeliveranceForAll@gmail.com

Visit Paypal.com